Sustainable business 2021
Messer's strategic orientation
In 2021, Messer Group GmbH was transformed into a limited joint-stock partnership (KGaA) and has since traded under the name of Messer SE & Co. KGaA. The KGaA legal form allows us to ensure that Messer is geared to the future as a global group with enhanced operational and organizational scope. It ensures continued control and influence on the part of the shareholder family. The new legal form will allow the family's fiscal and financial objectives to be achieved with even greater flexibility in future.
Over the next few years, the plan is to fully integrate Messer Industries GmbH, the joint venture created in 2019, into the family-owned company Messer SE & Co. KGaA. The development and implementation of a global strategy will then be possible for the merged industrial gases group. Furthermore, this will also facilitate the leveraging of some existing minor efficiency reserves.
The economic activity of Messer SE & Co. KGaA is mainly focused on Eastern Europe and Asia. The Asia region represents the world's largest industrial gases market with the highest growth rates. Messer Industries has regional and product-specific business operations in North and South America as well as Western Europe. What unites them all is the focus on safety, customer orientation and profitable growth. We aim to achieve appropriate payment for our products through a team culture geared towards efficiency, success and motivation, a high level of employee and customer satisfaction as well as innovation.
Sustainable growth through investment
Investment projects form an important basis for sustainable growth in the industrial gases sector, which is characterized by long-term operations. By way of example, Messer launched or completed the following projects in 2021.
Sustainable growth through investment Duplicate 2
Enhancing efficiency through digital improvements
Many Messer entities have strategically and technically reoriented their IT infrastructure, pursuing their digitalization strategies, with important milestones having already been reached.
Based on modern, globally established standards, the new standardized and flexibly scalable IT structure is an important prerequisite for improved business processes and greater efficiency, as well as more flexible and agile working.
Employee awareness of cybercrime has been further strengthened, including through training sessions.
Accordion Effizienzsteigerung
UN Goals sustainable management
SUSTAINABILITY ORIENTATION AND OPTIMIZATION THROUGH RATINGS
In order to be able to make an objective assessment of Messer's status quo in terms of sustainability and climate protection compared to other companies, and to identify concrete optimization potential, Messer decided to undergo an independent assessment: first as part of a "Sustainability Performance Overview" by EcoVadis, and second through the "CDP Score Report - Climate Change 2021".
EcoVadis "Sustainability Performance Overview"
EcoVadis is the world's largest and most reliable provider of sustainability ratings for companies. In the "Sustainability Performance Overview" published on March 25, 2021, Messer achieved the following results in the "Manufacture of chemical precursors, fertilizers and nitrogen compounds, plastics and synthetic rubber in primary forms" category: in the "Overall Rating", Messer was among the top 14 percent of companies rated. In terms of "Work and Human Rights", Messer ranked among the top 8 percent, and with regard to "Sustainable Procurement", among the top 24 percent of companies rated.
This rating by EcoVadis was valid until March 25, 2022. Following this date, there was a period of about one month in order to update the EcoVadis questionnaire. After doing this, a new rating is provided within one to two months. During this period, the existing rating is extended until the new rating is published.
"CDP Score Report - Climate Change 2021
"The "CDP Score Report – Climate Change 2021" facilitates a classification of companies with regard to environmental and climate protection – in comparison with other companies in their industry. The report also highlights the areas that require particular attention in order to improve in terms of Climate Governance. The score categories range from "A/A-" (= Implementing current best practices) to "D/D-" (= Transparent about climate issues). In 2021, Messer Group GmbH scored "B-" (= Taking coordinated action on climate issues). This is slightly below the European average of "B" and also slightly below the average score for companies in the chemical sector, which is also "B".
Switzerland: "Credit Rating Certificate" from Bisnode D&B Schweiz AG
In 2021, the credit agency Bisnode D&B Schweiz AG awarded a "Credit Rating Certificate" with "Risk Indicator 1" (which stands for minimum default risk) to Messer in Switzerland for the eleventh time in succession. Only two percent of all companies in Switzerland satisfy the conditions for this top rating. The certificate distinguishes Messer in Switzerland as a trustworthy, reliable, financially healthy and stable business partner.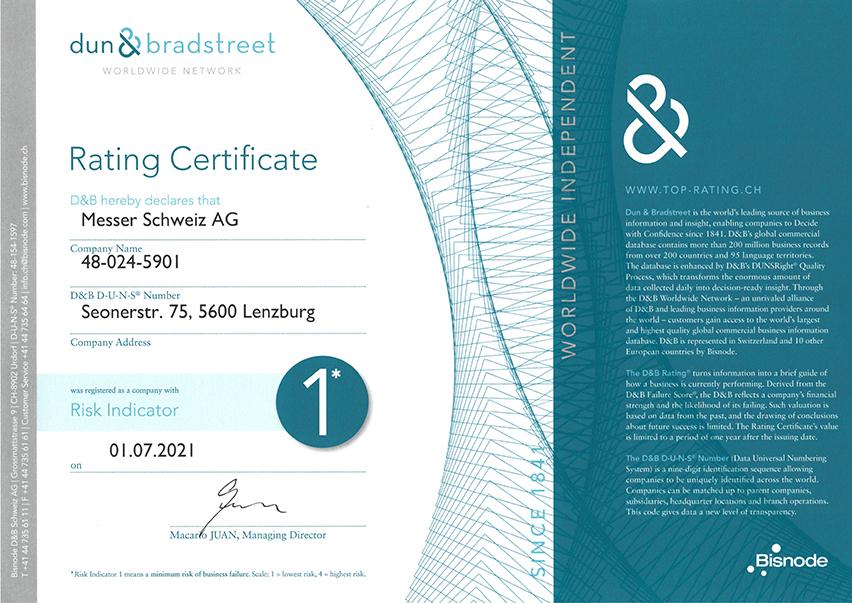 Engagement in the economic sphere
The owner's personal commitment
Stefan Messer is a member of the general assembly as well as chairman of the foreign trade committee of the Frankfurt am Main Chamber of Commerce and Industry (IHK). Another area of commitment is his involvement as Honorary Senator of the Technical University Darmstadt and the Goethe University Frankfurt. He is a member of the board of trustees of the Faculty of Economics and of the board of trustees of the China Institute at the Goethe University Frankfurt. In addition, he is a member of the board of the German-Swiss Chamber of Commerce, a member of the advisory committee to the FrankfurtRheinMain economic initiative, a member of the advisory committee of Mainova AG, a member of Commerzbank AG's regional advisory committee for the state of Hesse and a member of HDI Gerling's state advisory committee. He also sits on the board of the Friends of the German-Vietnamese University. Since January 2009, Stefan Messer has been Honorary Consul of the Republic of Slovenia for the consular district of Hesse, Rhineland-Palatinate and Saarland. He is involved in the association "Die Familienunternehmer" (The Family Entrepreneurs). Moreover, he is a member of the steering committee and board of the East Asian Association (OAV) and chairman of the inter-state committee on Thailand.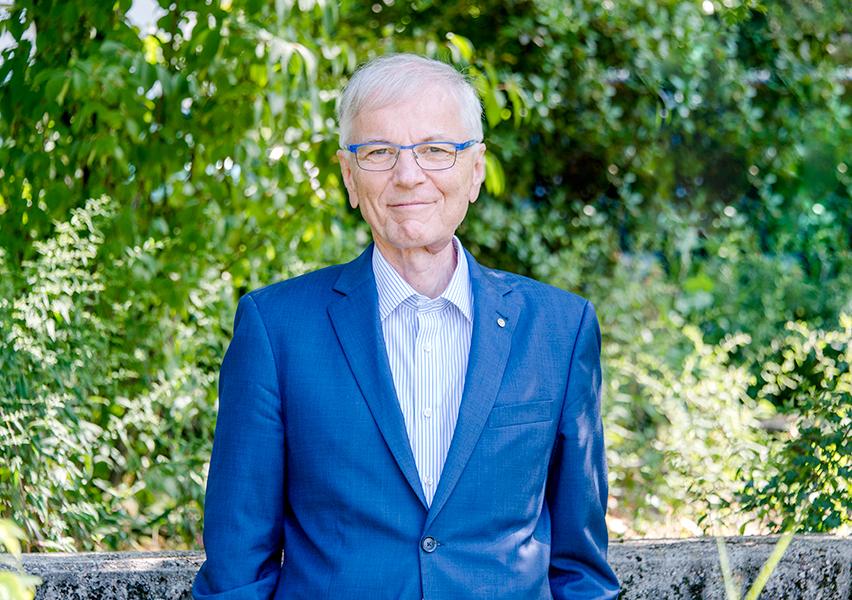 Engagement in industry associations
Messer SE & Co. KGaA is a member of the European Industrial Gases Association (EIGA). The Brussels-based EIGA represents nearly all companies throughout Europe that produce and market gases for industrial, medical and food processing applications. The association's work focuses on achieving the highest possible safety and environmental standards in the production, transport and use of gases. Messer is also a member of the International Oxygen Manufacturers Association (IOMA). Messer employees are represented in all the governing bodies of these two gases associations as well as on the German Industry Committee on Eastern Europe, in the German Eastern Europe Business Association, and in the German Asia-Pacific Business Association.
Messer SE & Co. KGaA is a member of the German Welding Society (DVS e.V.). The DVS is a not-for-profit, technical and scientific association based in Düsseldorf, and Messer employees' engagement in it sees them sitting on expert committees, supporting research projects and maintaining contacts with expert groups in technologically advanced fields.
Our subsidiaries are actively involved in various industrial associations at a local level. The list of associations of which Messer in America is a member includes the following: American Chemistry Council (ACC), Compressed Gas Association (CGA), Chemistry Council of New Jersey (CCNJ), Texas Chemical Council (TCC), California Large Energy Consumer Association (CLECA), Indiana Energy Consumers, West Virginia Large Energy User Group, West Virginia Manufacturing Association, Pennsylvania Energy Consumers Association and Ohio Energy Group.